MEET SEIGO
Seigo Nakamura, owner of the Tora Corporation in Japan, is the visionary behind ABURI Restaurants Canada. His unique concepts and business strategies have led to the creation of Aburi style cuisine and the Ningenmi philosophy. A trendsetter in all aspects, Seigo is never happy with settling for the norm.
His new twist on Aburi cuisine was created over a decade ago, by fusing the idea of traditional Japanese flame-searing with the decadent and creamy sauces of French cuisine. Seigo's vision for a new restaurant concept did not include using soy or wasabi in an abundance. With a new cuisine in mind, he set out to introduce Ningenmi and the idea of Omotenashi (traditional Japanese service) in the western world.
Ningenmi is a philosophy that has he always tried to uphold in his everyday life, and felt it was something that could be achieved in business practice. The idea was to share the success of the companies that he owned, with the people that ran them.
What is important to Seigo is a basic respect and understanding throughout the workplace. We can only succeed as a restaurant if we work as a team for the same goals, and dreams. The passion to achieve these goals is an essential part of what makes our team so effective. As a serving and team-oriented philosophy, Seigo believes that by bringing joy to others, you also bring joy to yourself. This coupled with respect and trust for your team embodies the Ningenmi philosophy.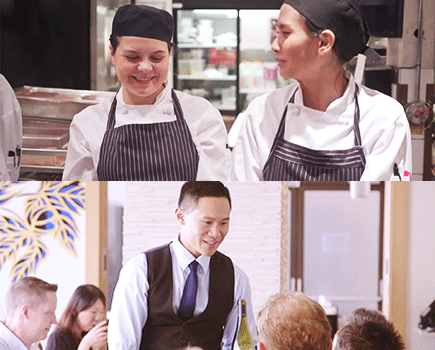 Taking aim at the restaurant industry's negative perception, Seigo aims to change the industry from a place to work to a place to grow and thrive. His goal through his philosophies and training systems is to set up his team to build rewarding careers in the restaurant industry.
Seigo moved his family to Vancouver in Spring of 2012 to oversee the growth of the Aburi brand. He's always a bright appearance in the restaurants and brings warmth and passion with him wherever he goes. We affectionately call him "Boss", a moniker he enjoys, but never takes advantage of. He is an easy person to approach, and will talk passionately about his visions for the future, Ningenmi and just how proud he is of the team.
With three Vancouver restaurants under his wing (Miku, Minami, and Gyoza Bar), Seigo has set his sights on the East Coast as his next big expansion. His multi-brand strategy will bring to light several restaurants featuring Aburi cuisine on the East Coast. Thinking locally but acting globally, he aims to create a truly international brand. With Seigo's vision, passion, and keen eye for business, Aburi Restaurants Canada can expect great things on the horizon.